Seriously, how hard is it to find a floor length dress? Apparently super hard. I haven't actually gone out to stores to look yet, but that's mostly because I won't have the money to actually purchase anything until next week, but let me say I feel pretty discouraged just looking on the internet. Have you googled floor length gowns ever? Do it. Do it now. Here are my issues...
1. I am 25 years old. 25 YEARS OLD! So I am pretty positive that a Mother of the Bride type dress, which typically comes up fairly fast, is going to age me a lot and make me feel just a little bit ridiculous. If you like that kind of dress that's cool, but for a 25 year old it is unacceptable.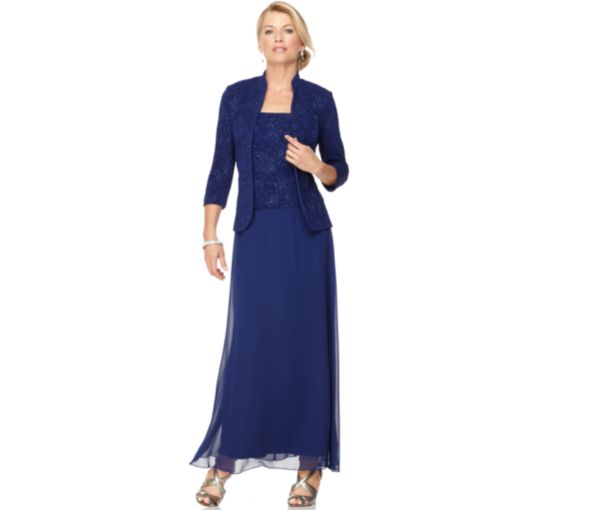 Seriously, I'm 25. How old will this make me look?
2. Did I mention that I am 25? Yes, I am 25...not 17 or 18 and in the market for a prom dress. I am not looking for a sparkly, glitzy, fluffy sort of dress (yes, fluffy...I consider it to be a bit fluffy with all that tulle and such). I can't fit into my old prom dress (nor do I really want to anymore) and it just wouldn't work for me either. I am NOT looking for a prom dress.
Pretty sure I wasn't even looking for this type of dress as I looked for a prom dress.
3. I am pretty anti-strapless dress. Seriously, it doesn't really look that great on anyone and then you're constantly sitting there tugging up your dress just to make sure it doesn't slide down and expose what you do not want exposed. I mean seriously, how stupid do you look constantly tugging that up. I remember that being sooooo hard when I was looking for a wedding dress. Seriously, stop with the strapless dresses already!
So, you might be wondering...what do I actually want. Ugh...it's so hard. I never really thought that I would need a floor length dress until my husband told me right before he left the country (ha, good timing on his part right? He had to have known I'd be annoyed). Well, if you must know...I want something simple. I'm looking at some darker colors, probably sticking close to a black, because I just do not like wearing anything super bright and it'll be winter when I do wear it (in December) so yea, no bright colors. I want straps (duh!) so that I don't look like an idiot constantly tugging it up. I found this dress, which I love, but is sadly out of my price range (who has nearly $300 to drop on a dress like this?)
I love the simplicity. It's not over the top in any way. I want the waistline to be a bit higher, because I tend to lean towards more of an empire type dress, but I love this. But not $300 worth.
So where should I look? I'm thinking of attempting to hit up thrift stores and consignment shops, because you never know what you will find (I got a really cute black dress for $8 at one, just needs a small adjustment but still...pretty awesome). Suggestions? I am pretty frustrated and not at all excited to start actually going out there to search. But I need to get one since apparently this could be my dress code for various events in my life later on as well. Any and all suggestions are helpful. :)